I finished graduate school two months ago, and sometimes it's still hard to remember that I'm not going back in the fall – to be honest, I already miss going to classes and writing papers! Some commencement-grams, including silly-sleeved gown, and brag-y photo of the thesis award I won: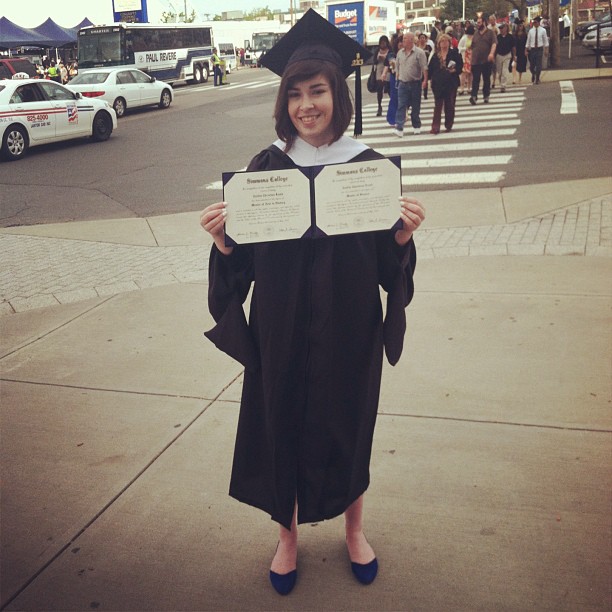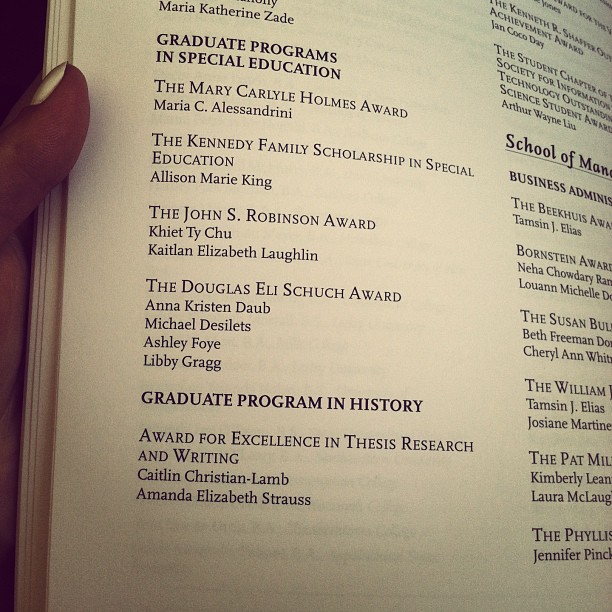 But now that graduate school is well and truly over, I've set some summer/ fall goals – some things I wanted to do during school but never had the time, things I want to accomplish in general, and some things that I just think would improve the quality of my life. In no particular order:
Re-read all of the books I was assigned in class and thought were really interesting, but had to skim a bit. The top of this list is Naomi Klein's The Shock Doctrine, followed closely by Ross Harvey's Digital Curation: A How-to-do-it Manual.
Speaking of reading, maybe finish all of the titles I haven't gotten to yet on the Modern Library's 100 Best Novels list?
Learn to play that ukulele I bought 2 years ago and promptly put away in a closet.
Update this blog more regularly!
Learn to ride a bike, finally.
Present at a conference.
Publish – in professional organizations newsletters, journals, on my work's blog, wherever!
Pare down closet and bookcase to essentials – I own way too much stuff…
Make sure to keep in touch with everyone who's moved away and I miss, with my favorite old professors, with my cousins, with former coworkers and bosses. It's so easy for me to get busy and forget to do this.