The annual meeting for SAA is hosted in my neck of the woods this year – I'm a recent Marylander but lived in Adams Morgan years ago – so I thought I'd share some suggestions of places nearby the conference site, the Washington Marriott Wardman Park. The conference's host committee has also published recommendations on their blog, including some tips on dealing with the metro's red line single tracking.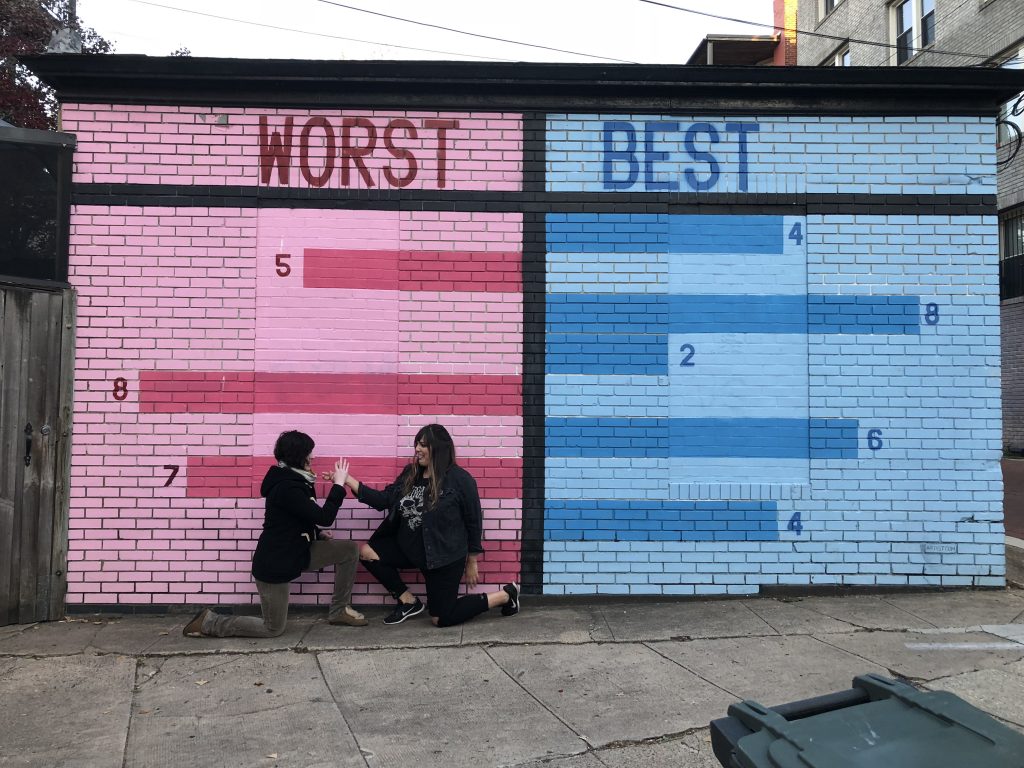 Quick Food
Nando's Peri-Peri (2631 Connecticut Ave NW): Across the street from the conference hotel, this chain of Afro-Portuguese chicken is super delicious.
Hot N Juicy Crawfish (2651 Connecticut Ave NW): A Cajun crawfish chain that's a favorite of my partner's family, so I've been here a few times. It's messy and your clothes will smell like garlic afterwards, but a great spot for spicy seafood and surprisingly good cocktails. Also across the street from the conference venue.
McDonald's (2616 Connecticut Ave NW): Next to the metro station, same side of the street as the conference hotel. McD has my favorite quick coffee in this area because I'm not a fan of Dunkin or Starbucks (there are Starbucks and Dunkin locations across the street from this McDonald's though, if those catch your fancy).
Macintyre's (2621 Connecticut Ave NW): A sports bar with good food and craft beers, across the street from the Woodley Park metro station and the conference hotel.
Amsterdam Falafelshop (2425 18th St NW): About a 15-20 minute walk from the conference hotel, on the famed 18th street drag in Adams Morgan. One of my favorite places back when I lived in this neighborhood 8 years ago – it's delicious, affordable, and fast, and you add your own toppings to your falafel. It can be hard to grab seating though, especially at night.
&pizza (2465 18th St NW): A new-ish DC chain with delicious pizzas (and gluten-free options). My absolute favorite is the avocado toast pizza, but they only serve the breakfast pizzas at the Georgetown and airport locations, so if you're flying in/out of Dulles or National in the mornings, grab breakfast pizza! On the regular menu, I'm fond of the Moonstruck pizza. This place is also on the main drag in Adams Morgan, about 15-20 minutes of walking from the conference hotel.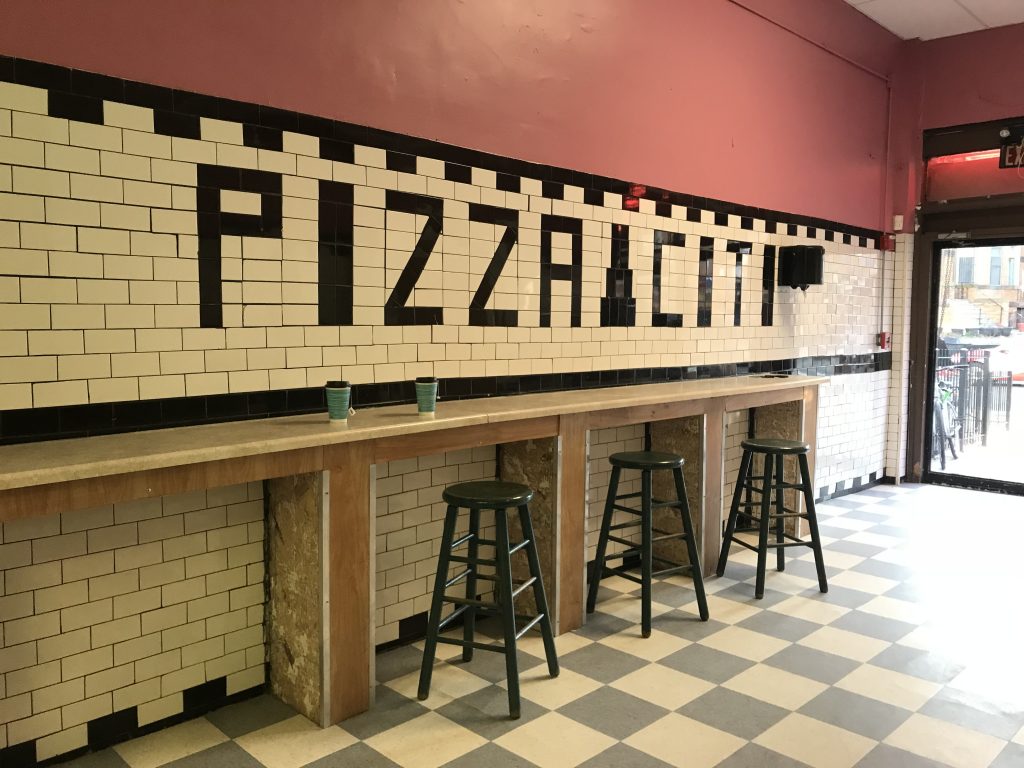 Jumbo Slice: Listen, Jumbo Slice gets a bad rap, but you owe it to yourself to try to the signature DC style of pizza. The commonly held belief is that this is always best to eat at the end of a long night of drinking, but in my opinion it's perfectly good sober as well. These are big slices, kind of similar to New York style pizza but much larger and not as… well, delicious (I'm a native New Yorker so I'm biased here). It's still tasty though! There are many places that serve Jumbo Slice along the Adams Morgan 18th street corridor, but my favorite is simply named Jumbo Slice (2341 18th St NW, Washington, DC 20009). However, Pizza Mart (2445 18th St NW) is often cited as the originator of the DC jumbo slice. The downside is that like Amsterdam Falafel and &pizza, these places is about a 20 minute walk away from the conference hotel.
Slower Food
Tono Sushi (2605 Connecticut Ave NW): I actually haven't been to this place, but it has good reviews online and it's across the street from the conference hotel. Sushi, plus Japanese and Thai dishes.
Open City (2331 Calvert St NW): Close to the conference hotel, Open City is operated by the same group that runs Tryst and The Diner on 18th Street in Adams Morgan. I prefer Tryst, but Open City has all day breakfast and a fairly delicious menu with a bunch of vegetarian and gluten-free options. The real downside is that every time I've eaten there, the service has been pretty slow, so you'll want to leave extra time.
District Kitchen (2606 Connecticut Ave NW): Fancy New American place across the street from the conference hotel. Pricey, but pretty tasty food and good cocktail and beer menus.
Lebanese Taverna (2641 Connecticut Ave NW): Another spot I haven't tried yet, but it's a popular local chain, and this location is across the street from the conference hotel. I'm told it has good gluten-free options.
Mama Ayesha's (1967 Calvert St NW): About halfway between Woodley Park and Adams Morgan, this Middle Eastern restaurant is famous for it's wall mural of US presidents from Eisenhower to Obama, pictured with the founder, Mama Ayesha herself.
Duke's Counter (3000 Connecticut Ave NW): Close to the National Zoo, about a 10 minute walk from the conference hotel. This spot serves British pub-y food, and their Proper Burger has gotten a lot of buzz as one of the best burgers in DC.
Vace Italian Deli (3315 Connecticut Ave NW): Like Duke's, this spot is close to the zoo. It's got a reputation for excellent pizza but also has a lot of delicious Italian deli and market staples. Roughly a 15-20 minute walk away from the conference hotel.
Tryst (2459 18th St NW): Coffeeshop with big lattes and all day brunch, on the 18th Street corridor. Seating can be limited here, but it's a fun location and the food and coffee are good. Back in 2009/2010, I lived around the corner from this place and didn't have wifi at home, so I would camp out on the couches at Tryst pretty often.
Drink
The Line Hotel (1770 Euclid St NW): DC is going wild for this new ~cool hotel in Adams Morgan. It has several bars, restaurants, and a coffee shop (and a radio station?), and the interiors are very hip. The wait for a table at the restaurants tends to be long, which is why I put this in the drinks section – you'll likely wait less if you're just drinking, and the cocktail menu is v. v. good. About a 20 minute walk from the conference hotel.
Jack Rose Dining Saloon (2007 18th St NW): Fancy whiskey bar with good food and themed rooms (a tiki bar, a rooftop terrace, dining saloon etc.). About a 20 minute walk from the hotel, in Adams Morgan.
Roofers Union (2446 18th St NW): Craft cocktail bar with a rooftop patio, about 15-20 minutes walking from the conference hotel.
Dan's Cafe (2315 18th St NW): The Google Maps description is "No frills, pour-your-own dive bar," which I think just about covers it. Cash only, roughly 20 minutes walk from the conference hotel.
Jug & Table (2446 18th St NW): Same building as Roofers Union (next door to Tattoo Paradise, where I got my first tattoo ever and also where a few Capitals players got celebratory Stanley Cup tats). Great wine menu and good prices.
Bourbon (2321 18th St NW): Are you getting the sense that DC is a whiskey drinker's town? Apparently it is, and since bourbon is my favorite liquor, I'm into it. This place has a large selection of whiskeys, has a small-but-good food menu (including Old Bay tater tots), and is about a 15 minute walk from the conference hotel.
Hotel bars: The Marriott has a few bars and restaurants inside of it. The only one I've been to is Stone's Throw, which had pretty good fish and chips.
Other
National Zoo: Free, walking distance from the conference hotel, and has misting stations for hot days – the zoo is always worth a visit when in Woodley Park.
Rock Creek Park: The park is right next to the conference hotel, and has several hiking trails, as well as a stable that offers riding to the public. I've only admired this park from above (while walking across Duke Ellington Bridge) and from a car, partially because my little cousin once got bit by a brown recluse spider there and had to be hospitalized for months. A friend of mine has a theory that women familiar with DC automatically think of Chandra Levy's body being found there.
Further Afield
Places that you will have to take the metro and/or a rideshare to, but are some of my favorite DC places: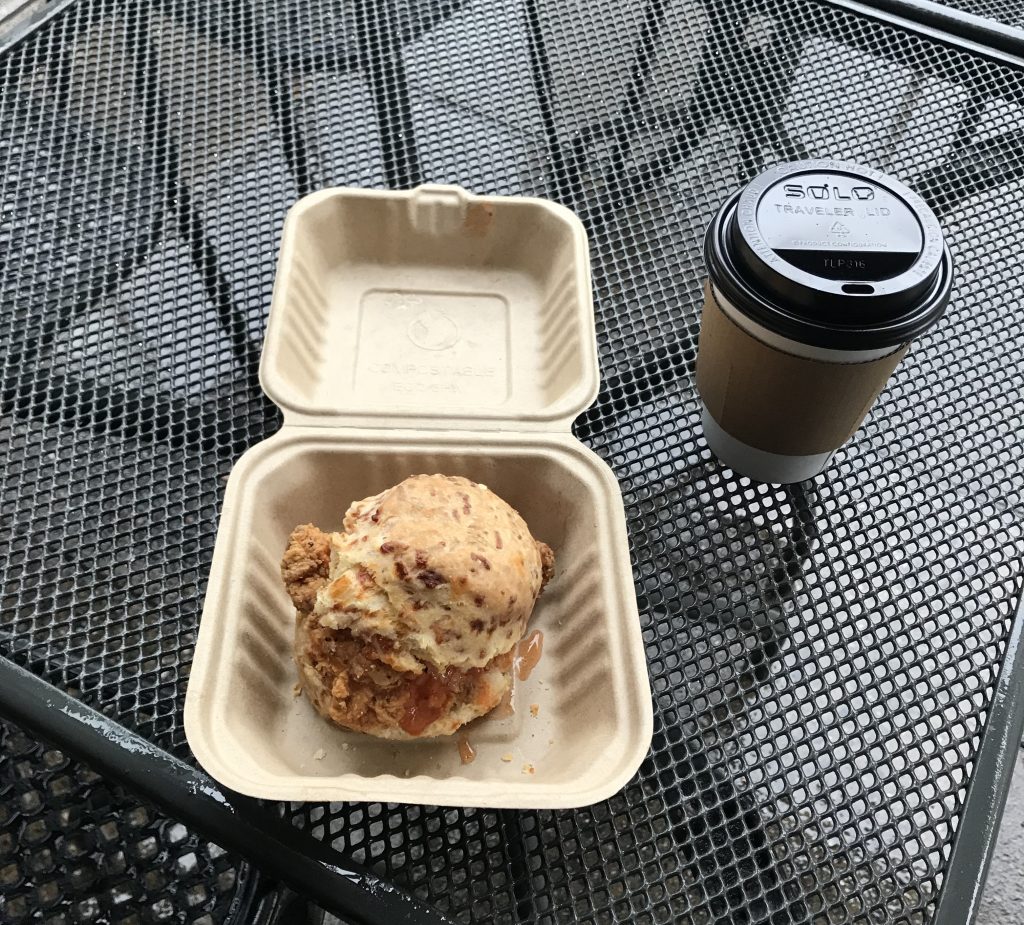 Astro Doughnuts & Fried Chicken: No real seating (a handful of tables out front) and it closes pretty early, but this is my favorite fried-chicken-on-a-biscuit in the area. It's very good! Metro Center metro.
Izakaya Seki: Very delicious Japanese bar food, although it's a bit pricey and seating can be rough since it's a small place. Still, it's one of my favorite places that I've eaten in DC. Shaw/Howard University metro.
NuVegan: Vegan soul food! There's a location in College Park (right next to University of Maryland campus) that I hit up all the time, but also one in Columbia Heights. This place is delicious and affordable, and their vegan ricotta will blow your mind. College Park or Columbia Heights metro.
Wok N Roll: Karaoke! Drinks, pretty decent appetizers, and private karaoke rooms in Chinatown. The building also has an interesting history. Gallery Place/Chinatown metro.
Union Market: Indoor food hall with lots of options, plus a pop-up movie theater, occasional art exhibitions, sit-down restaurants, a Yoko Ono mural, and outdoor table tennis etc. NoMa/Gallaudet University/New York Ave metro.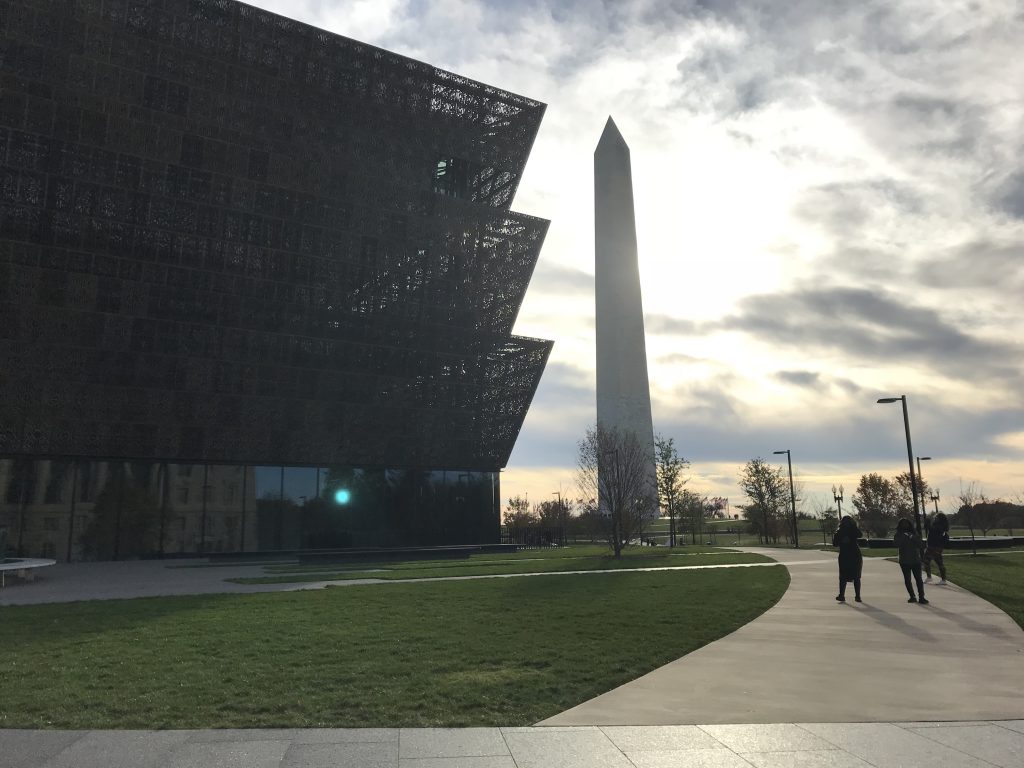 National Museum of African American History and Culture: On the National Mall, one of the newest DC museums. 1000% worth a visit, although getting in can be a bit complicated, especially during the summer. I've had luck with waking up at 6 AM to reserve same-day passes online – every time I've tried I've been able to get timed passes. This museum is pretty sizable and has a TON of content, so even though I've been three times I still don't think I've seen everything, so if you can, get an early-in-the-day timed pass so you have several hours for your visit. The in-museum cafe, Sweet Home Cafe, is also an above-average museum eatery and worth stopping at. Like all of the Smithsonians, entry is free.
Renwick Gallery: This museum always has really interesting exhibitions – right now it's an exhibition on the art of Burning Man. Farragut West metro.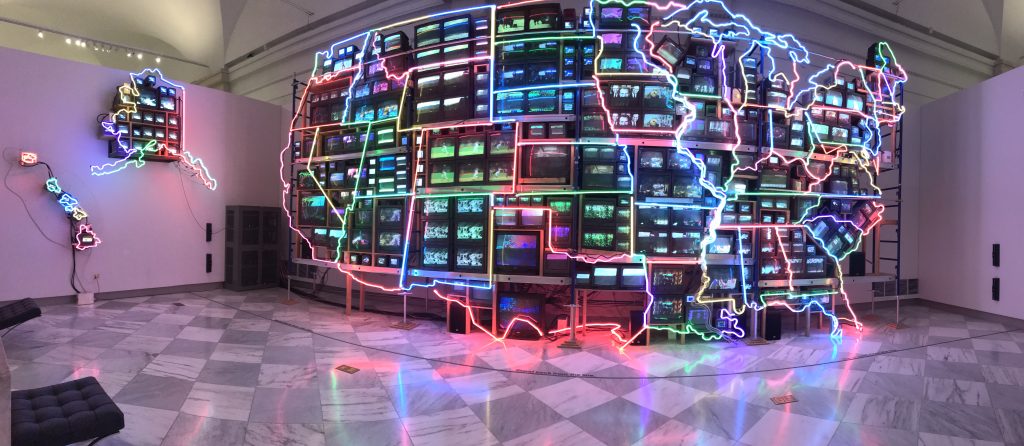 National Portrait Gallery (NPG) and the Smithsonian American Art Museum (SAAM): A longtime fave! These two museums share a building, so you can hit two-in-one – it's actually the Old Patent Office Building, and you can see remnants of that, particularly on the upper floor where SAAM is. SAAM has a small but great modern art collection. NPG has excellent temporary exhibitions as well as a lot to offer in the permanent collections – this is where the Obamas official portraits are, as well as the portrait of the four women Supreme Court Justices. Both are free and open until 7 PM, which means you can pop in after other museums have closed. Gallery Place/Chinatown metro.
Black Cat, 9:30 Club, the Anthem: If you want to see live music while in DC, these three are my go-to's. AV Archives Night will be at Black Cat on the 15th. 9:30 Club is next door to Satellite Room, which has great drinks. The Anthem is a new, gigantic venue at the Wharf, which is a new development in DC.
AFI Silver Theatre & Cultural Center: I might be biased because I used to live walking distance from AFI, but it's a really excellent indie movie theater that frequently runs hard-to-see-elsewhere content, film series, and local festivals (CatVideoFest is a joy). It's a bit of a trek from the conference hotel, but worth checking the calendar to see if there's something that catches your interest. Silver Spring metro.
Eat a half smoke: Another iconic DC food! Ben's Chili Bowl (1213 U Street NW; U Street metro [if you're on U Street, also try Dukem and/or Oohh's & Aahh's]) is the signature place to try this, and I like HalfSmoke (651 Florida Ave NW; Shaw-Howard University metro) because they also have fancy cocktails and fried mac and cheese. Slim's Diner (4200 9th St NW; Georgia Ave-Petworth metro) is my on to-try list (and is located in another DC neighborhood I lived in years ago).