Note: Some great DH 2014 resources – dh+lib put up two great wrap-up posts (part one and part two), James Baker posted his (great) notes from DH 2014 on GitHub, and ADHO posted several Storify's on their account.
Earlier this month, I attended DH 2014 in Lausanne, Switzerland. I got back to the states about a week ago after taking a bit of vacation, so now I have time to write about my experience!
This was my first time attending DH, and it was definitely one of the best/ most productive conferences I've been to in the last few years. So, here are some of my highlights from nearly a week in Lausanne:
I found this full-day workshop really interesting – the facilitators (James Baker from The British Library, Chris Bourg and Jacque Hettel from Stanford, Alex Gil from Columbia, Purdom Lindblad and Laura Miller from University of Virginia's Scholars' Lab, and Padraic Stack from NIU Maynooth) all gave presentations on DH training initiatives at their organizations, followed by discussion and exercises aimed at helping participants draft their own plans for DH trainings. I loved hearing about the five ongoing initiatives, and I thought the exercises were really helpful in generating new ideas – I've never done a design-think before, and my interview partner (shoutout to James Baker!) gave a valuable outsiders perspective. A few patterns emerged as the workshop went on: subject librarians are the point people in the library/ archives world who seem to be engaging with DH, on a wide scale; and many of the facilitators and participants approached DH training through working on projects. Basically, I left the workshop with a bunch of new ideas and new acquaintances to ask for advice from. A+, would workshop again!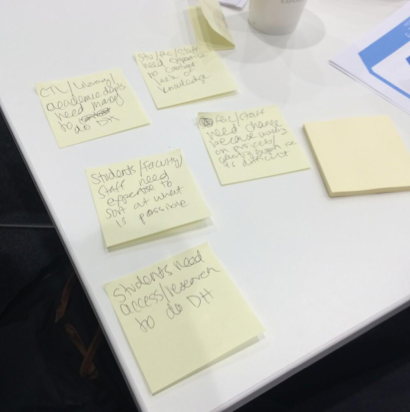 Latour's talk focused on the materiality of the digital and digital humanities as a set of practices rather than a separate field. A really fascinating talk, and it was interesting to hear more about the AIME project. Later, my Davidson colleague Mark Sample took this photo, which best showcases Latour's epic cape: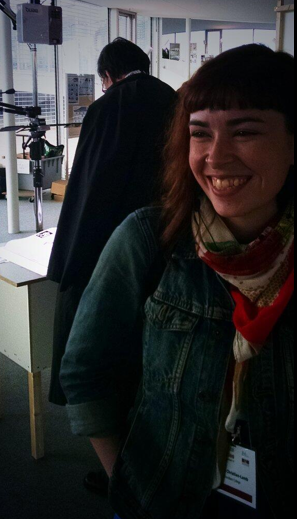 Session 3: Long Papers in 413 (Chair: Aimee Morrison)
None of the sessions had summarizing titles, but this set of presentations focused on Really good session, mostly focusing on undergraduate engagement with the digital humanities in a classroom setting. Since I work in a small liberal arts college, I remember marking off this session as one I should definitely attend. I wasn't disappointed – some really amazing class projects and pedagogical methods were showcased here. Diane Jakacki and Katie Faull's "Digital Learning in an Undergraduate Context: Promoting Long Term Student-Faculty (and Community) Collaboration in the Susquehanna Valley, PA" focused on undergraduate DH in a liberal arts environment, accomplished through widespread collaboration – probably the most directly applicable paper to what I do (and want to do) at Davidson.
Amy Earhart and Toniesha Taylor's cross-institutional "Digital Activism: Canon Expansion and Textual Recovery in the Undergraduate Classroom" was facinating – I loved the idea of working across two very different institutions, both to reclaim history and to give students experience in working with primary sources and digital tools.
Siemens focused on community building in DH, and how that has been achieved thus far as well as how we might proceed in the future. I really liked the acknowledgement of the DHSI community as a whole, and I loved that I was able to stand during that – DHSI is definitely the most social and welcoming training event/ conference that I've ever attended.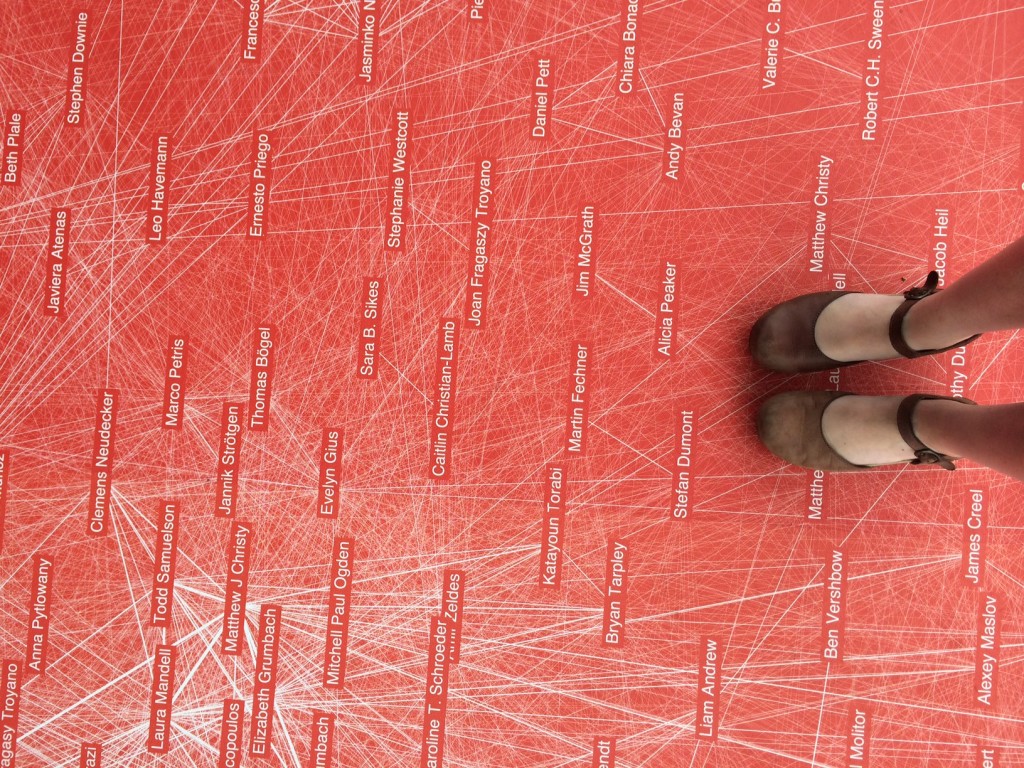 Session 5: Short Papers in 315 (Chair: Sarah Potvin)
Seeing the DH Whisperers in action during  was pretty cool – you can read more about the program at Elika Ortega's blog post. When I attended HASTAC's conference in Peru this past April, I was in awe of those who can communicate at such a high level in several languages. I have a decent command of French and smattering of phrases in Spanish, Italian, and German, but I couldn't hold an academic conversation in any of those. Taking more language classes has now been pushed to the top of my goals list – being able to effectively communicate is the first step to being able to work with a whole range of new collaborators, and English shouldn't be the default lingua franca at conferences.
I really liked the poster session setup at DH – they were scheduled so that there were no competing sessions, which I think is part of the reason why there was such a great turnout. The other reason is probably that there were SO many interesting posters – I regret that I didn't get a chance to check out hardly any during the first session, because my own poster was up during that time.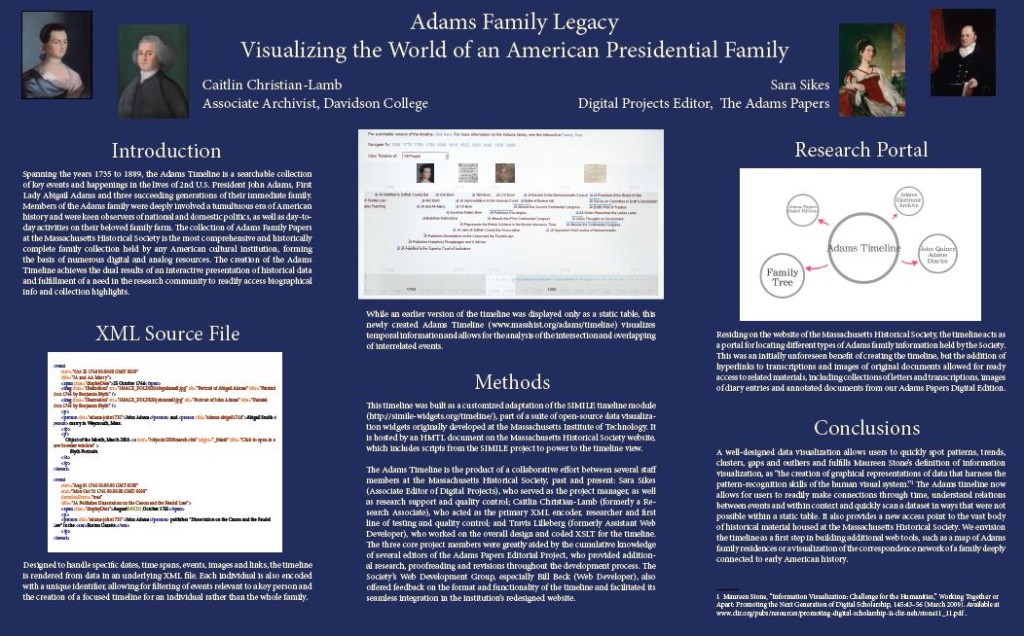 To be honest, I need to think over Nowviskie's talk a bit more – at the time, I was struck with the ideas of impermanence and our own influence on the historical record (an archival turn at DH!), but there was so much packed into this plenary that I think I need to return to the text and dig deeper.
Session 8 : Long Papers in 412 (Chair: Elli Mylonas)
This session was full of interesting presentations! Trevor Munoz and Jennifer Guiliano's "Making Digital Humanities Work," Jyi-Shane Liu and Wen-Hung Liao's "Developing a Physical Interactive Space for Innovative Digital Humanities Exhibition," and Jesse Stommel's "Digital Pedagogy is About Breaking Stuff" were all conference favorites of mine.
DH 2014 offered professional portraits, a conference first for me! The online gallery is ingenious – what better way to match faces to names?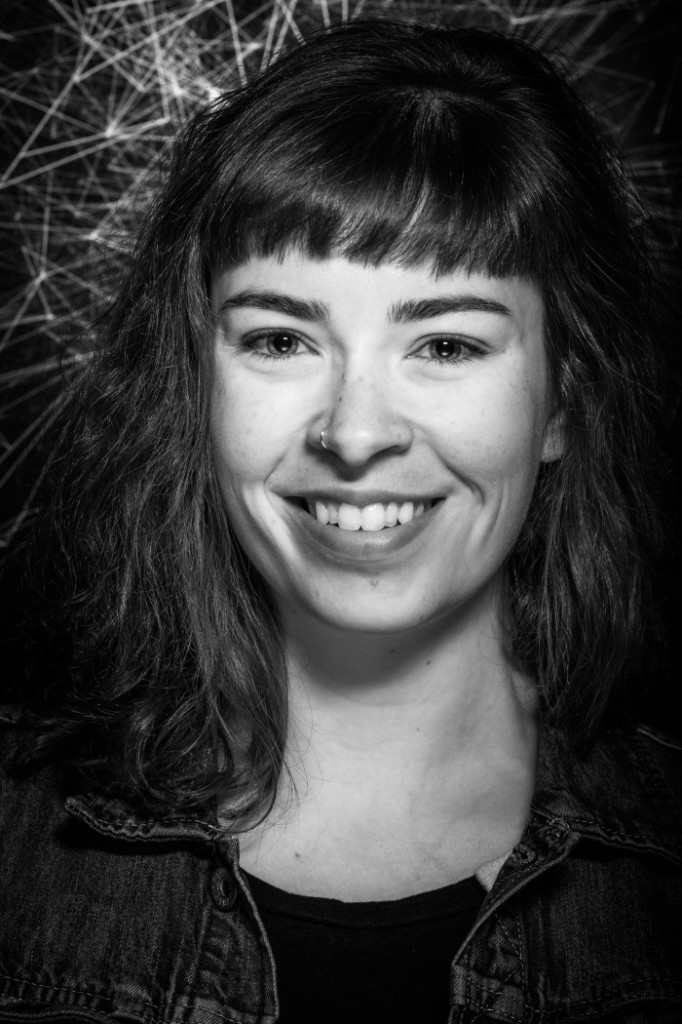 Overall, this was definitely one of the most thought-provoking conferences I've been to. So many ideas, projects, and people packed into a week! Very hard to summarize, but I'm so glad that I made the trip to Switzerland, and I'll continue stewing over presentations for a bit to come, I think.