… Or How Davidson Students Learned to Stop Worrying and Love the Library.
[This post is a companion piece to the poster I presented at the 2015 DHSI Colloquium and DH2015 , designed to further elucidate the ideas in the poster and provide additional context.]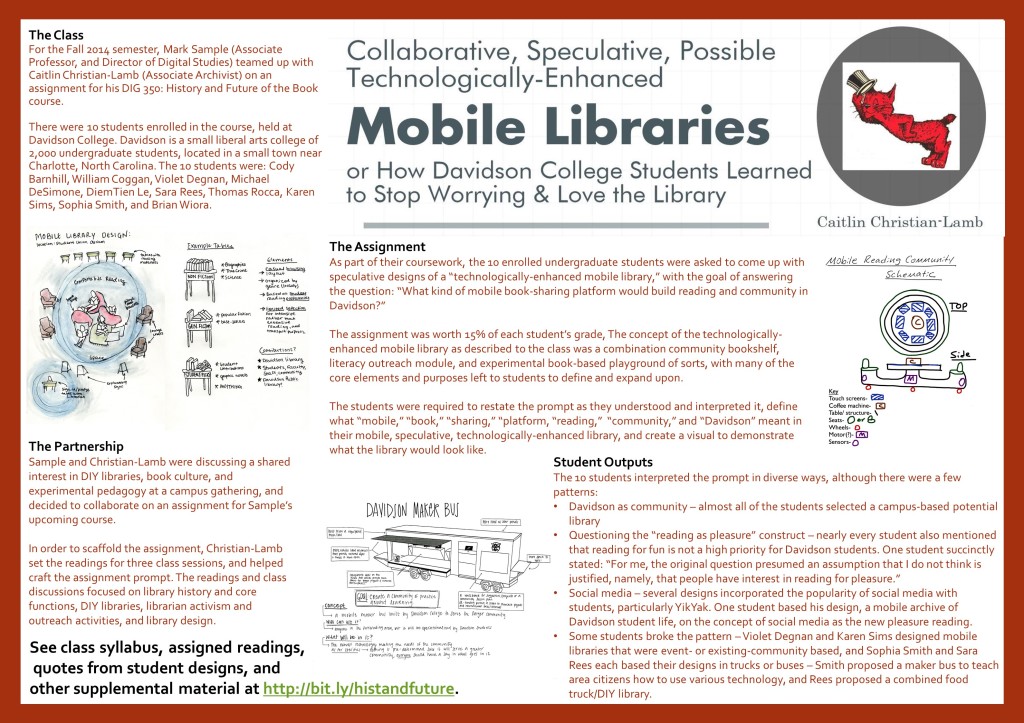 The Class
For the Fall 2014 semester, Mark Sample (Associate Professor, and Director of Digital Studies) and I teamed up on an assignment for his DIG 350: History and Future of the Book course at Davidson College, a small liberal arts college near Charlotte, North Carolina. The course had 10 undergraduate students enrolled.
Collaboration
The idea of having the DIG 350 class work on a mobile library project was born out of a conversation with Mark where we discussed our mutual interest in experimental books, libraries as social justice spaces, community-building, and the possibilities that the affordances of technology could bring to DIY library projects.1 Mark suggested that his upcoming DIG 350 course would be an excellent space to engage students with these ideas, and see what they could come up with.
Syllabus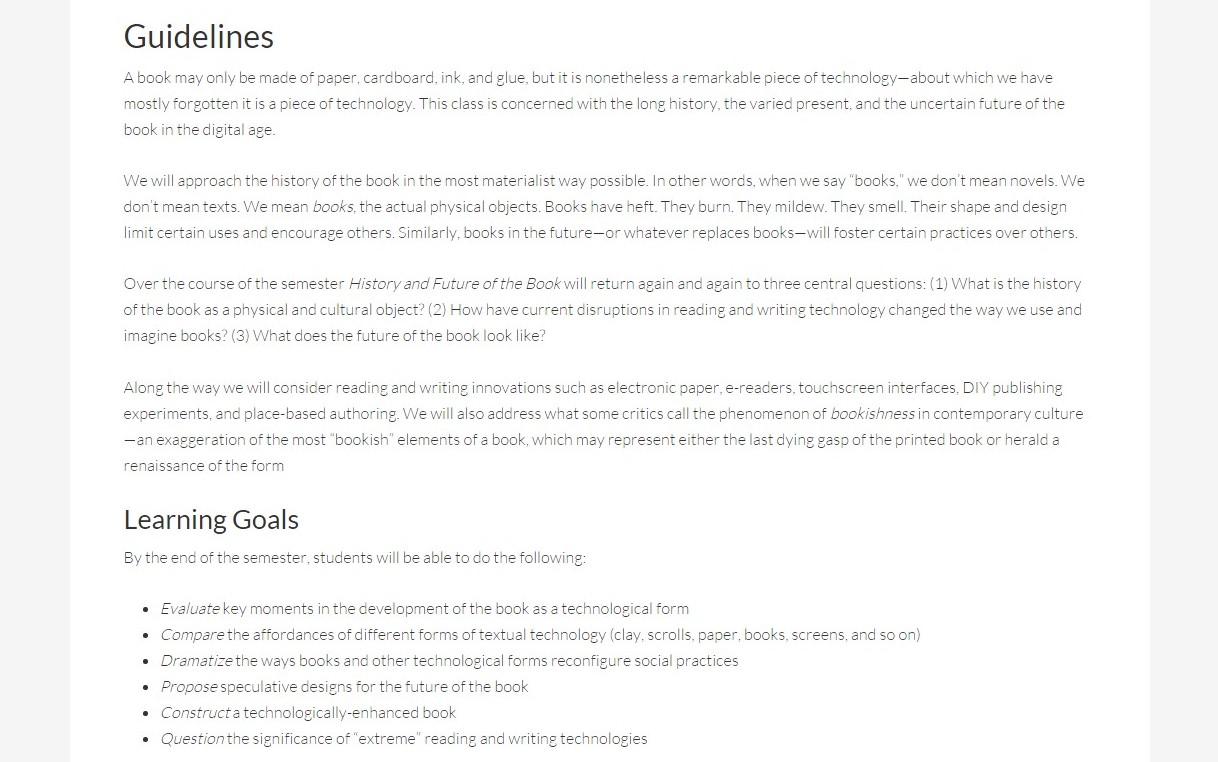 I assigned readings and led discussion for the October 15th, 17th, and 27th (2014) class meetings. Prior to the October 15th meeting, I asked the class to take the Pew Research Center's Library User Quiz. You can see their group results and how they compare to the general public results here.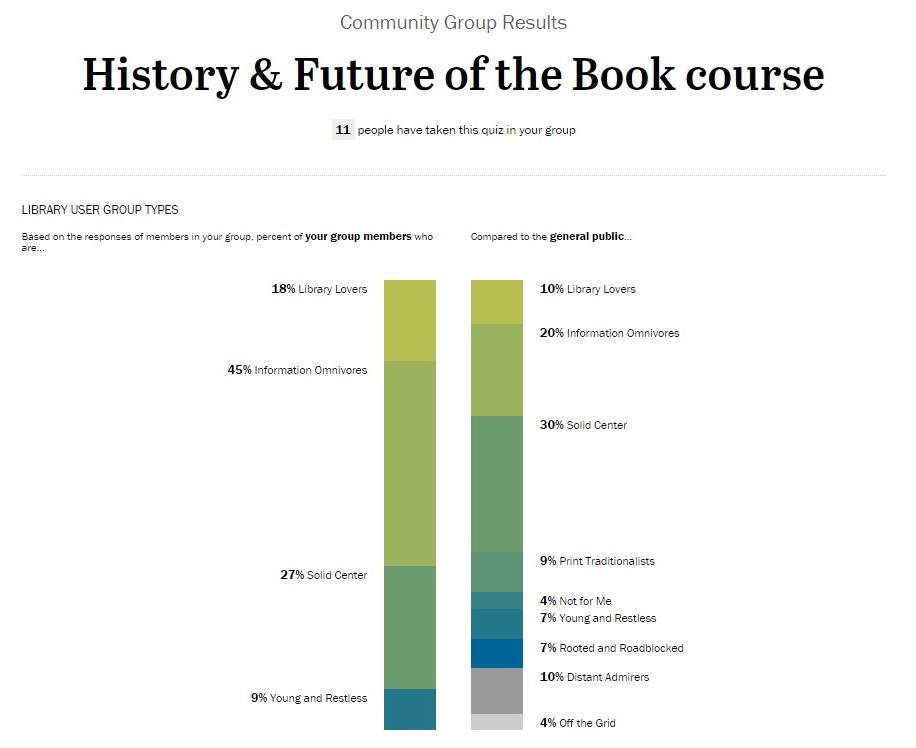 I found the students' results notable on a few points – although the vast majority of the 11 results (10 undergraduate students and course instructor, Mark Sample – I did not take the quiz) fell into either the "Library Lovers" (18%, compared to 10% of the general public) or "Information Omnivores" (45%, compared to 20% of the general public) groups, the class results showed that our students seemed to value public libraries less than the general public.23
October 15 Readings
My initial idea behind our first class discussion was to set up a space to talk primarily about library possibilities, but instead we focused more on what libraries currently try to provide and how information professionals view their own work.4
"Code of Ethics of the American Library Association," January 22, 2008.
Katie Gilbert, "What is a Library?," Narratively, January 2, 2014.
Jeffrey Schnapp and Matthew Battles, "Librarian," "Library Card," and "Reference Desk" windows in The Library Beyond the Book (Cambridge, MA: Harvard University Press, 2014), 48 – 53.
October 17th Readings
This class session focused on DIY libraries, with some background information on Little Free Libraries and the debate surrounding that community.
Tiffany Gibert's "The Floating Library and Five Other Unusual Reading Spots," TimeOut New York, September 10, 2014.

Joe Hardenbrook, "A Little Rant on Little Free Libraries (AKA Probably an Unpopular Post)," Mr. Library Dude (blog), April 9, 2014.
Pam Kelly, "Little Free Libraries make a big splash in Charlotte, " The Charlotte Observer (Charlotte, NC), August 8, 2014.
Jaime Taylor and Zachary Loeb, "Librarian is My Occupation: A History of the People's Library of Occupy Wall Street," LibrarianShipwreck (blog), April 16, 2014 [also published as a chapter in Informed Agitation: Library and Information Skills in Social Justice Movements and Beyond].
October 27th Readings
The readings for this class meeting focused on mobile libraries, playfulness, and the physical form(s) that collections of books and reading spaces can take.
Jereon de Boer, "Mobile Library Fab Lab Brings New Skills to Rural Areas," opensource.com, June 2, 2014.
Piotr Kowalczyk, "10 Most Extraordinary Mobile Libraries," eBook Friendly, accessed October 27, 2014.
Jeffrey Schnapp and Matthew Battles, "Libraries of the Here and Now," "Moving," "Mobilizing," and "Momentary" sections in The Library Beyond the Book (Cambridge, MA: Harvard University Press, 2014), 96 – 119.
Kimberly Turner, "The 10 Weirdest and Most Wonderful Libraries in the World," Lit Reactor, January 23, 2014.
Assignment Prompt
Worth 15% of their final grade, students were given the prompt: "The goal of this project is to apply what we learned throughout the semester about books, reading, technology, and libraries in order answer this question: What kind of mobile book-sharing platform would build reading and community in Davidson?"
The students were asked to restate the prompt as they understood and interpreted it, including defining what "mobile," "book," "sharing," "platform, "reading," "community," and "Davidson" meant in their mobile, speculative, technologically-enhanced library. The completed project would include a visual to demonstrate what the library would look like, a 1-page restatement of the prompt, and a 3-4 page reflection on the design.5
Student Outputs
The final ideas the 10 students came up with varied greatly, although a few patterns emerged. Primarily:
All of the mobile speculative libraries were located or had their home base on Davidson College's campus.
Nearly all of the students identified the issue with "building reading and community in Davidson" as the lack of student time to read for fun during the semester.
Roughly half of the designs incorporated locations on campus associated with relaxation, rather than work – i.e. the campus coffeehouse or the college union, rather than the college library building itself, which was generally seen as a stressful space intended solely for getting work done.
Designs incorporating social media also made up a large chunk of the projects – the students identified social media sites and apps (particularly YikYak) as both ubiquitous and easy to use, suggesting that social media might be a valuable connection between reading and community in Davidson.
Here are the titles and a few quotes highlighting the overall points from each project:
Davidson Maker Bus
Davidson Maker Bus focuses on "bringing new learning technologies to kids, and 'advocating as a way of knowing'… Technology offers the affordances of hands on learning, working together, and actually creating a final project. It inspires divergent thinking and leaves the participant with something to be proud of."
"I wanted the bus to be a physical addition to the library that could reach out to the community, instead of making them come to the library. The mobile platform can easily reach out to surrounding areas underutilizing their local library. It serves as both a promotional, and educational tool."
The Maker Bus would be staffed by Davidson students, and seeks to address the "technophobic" nature of Davidson students and the lack of a creative culture on Davidson's campus by promoting a "maker/technology culture" that would be "unavoidable – and fun!"
Designing a Mobile Archive of Davidson Student Life
An electric, sensor-guided platform that would move around the Davidson campus, and would transmit its GPS location so students could find it; "a mobile, self-driving-coffee-making-smart-table" where "the reading material would become an interactive archive of Davidson students' thoughts, stories, and whatever else they would like to contribute."
The platform would build on the popularity of social media: "Few Davidson students make time to regularly free read for pleasure at all. The exception is of course social media. Davidson students devote massive amounts of free time to reading the thoughts and other posts from their peers through outlets such as Facebook, Twitter, and YikYak."
Dorm Room Reads
"My proposed mobile free book-sharing platform plays off of two affordances of other media forms: novelty and accessibility." Dorm Reads will be accessible by being a door-to-door book-sharing service run by work study students, wheeling a "cart filled with eclectic and interesting reads, as well as a few classics."
"Just like mason jars, Polaroid cameras, and vinyl records, books have developed into a counter cultural way of presenting information, highlighting its auratic value over the practical one. The kinds of books in my mobile free library will highlight and further the auratic value further."
This design questioned whether any program or initiative can spark an interest in pleasure reading among the Davidson College student body, but notes that it's still imperative to try: "None of these potential limitations can supersede a pressing need for college age students to read for fun. After all, as Ray Bradbury once said, 'You don't have to burn books to destroy a culture. Just get people to stop reading them.'"
Bean Bag Reading Therapy
An event-based "platform" where students could relax on bean bags or comfortable chairs. Ideally managed by the college library, but existing in a space outside the library – such as the atrium of the college union, a space already associated with socializing and pleasure: "Ultimately these are spaces that encourage reading, rather than simply finding reading."
"This design focuses on the 'book' as texts read for fun outside of class… 'Reading' in this design can mean anything from reading novels, graphic novels, biographies, or periodicals, with the primary focus on choice and enjoyment.
Books would be "loosely organized by genre to emulate the browsing feel of a bookstore rather than an academic library," and students could pledge donations to the World Literacy Foundation based on reading time, to alleviate fears of "wasting" time and promote community.
A Cultural Center Fused with Bookishness
Proposes "adding a bookisness dimension to an already established community-gathering place," such as the on-campus coffeehouse, where physical books (particularly artists books), "not bound by the systems of a traditional library" (such as a cataloging system) could be engaged with for pleasure in a shared, communal location.
Focus on low-risk environment – "students are already in [coffeehouse]… it is low-risk to come to [coffeehouse] and flip open a book while waiting for a coffee to be served up; it is high-risk to take time out of an already jam-packed day to visit a mobile library, which only offers one function: mobile books."
BiblioBurgers
A proposed combination "book-sharing vehicle" ("It will include physical fiction and nonfiction books, as well as the ability to download ebooks over Wi-Fi.") and a food truck ("After all, Davidson could always use more food trucks").
"To encourage the sharing of ideas and experiences, I would include a notebook where patrons could leave their recommendations and thoughts about what they have read, akin to journals placed at various shelters along the Appalachian Trail…"
BearBooks
"My idea is called BearBooks, which is a community-based discussion that focuses on bringing a diverse group of people together using books and other texts. Because bear is the homophone of bare, I wanted to imply that this organization is a safe, welcoming place for open discussion. It almost requires all members to expose themselves and come out of their comfort zone in order to grow and learn from the discussions. Bear implies that it is a cuddly, supportive organization."
"My project aimed to make reading more intentional through community building. I wanted to bring people from a variety of backgrounds to share their experiences and opinions while being open to others' perspectives." The location of the community is itself mobile – the group would change meeting place each week, and "expand the idea of a book and what is considered reading. I think a text is anything that attempts to make an argument, and texts could include books, photos, videos or art."
Quiet Book Maze
"I want to capture the same peaceful privacy created by a combination of a quiet book-maze and relaxed music, and encourage the same curiosity, but eliminate that nagging guilt that prevents people from satisfying an interest that does not align with their responsibilities. Essentially, I want people to wander the stacks, wonder at the vastness of knowledge books contain, and feel free to read, or not read, whatever grabs their attention."
A solo, candle-lit reading zone that would "build community through a focus on the individual" by encouraging marginalia, annotations, or doodles directly into the book.
Conclusions
Overall, I thought the collaboration was thought-provoking – the students challenged my biases as an information worker,6 and reminded me that opportunities for library and archival advocacy are everywhere. Roughly half of the class expressed their satisfaction with the assignment and the ways it had required them to think, although several also expressed frustration with the looseness of the library-based discussions and the vague, open nature of the assignment prompt.
Despite some frustration, many of the student papers also focused on the knowledge they gained of library functions and programs, as well as the role that libraries and information professionals can play in creating intellectual commons for the public.7
Several of the designs produced for the assignment are ones that are actionable, and one student has met with me to discuss how to move their idea from a speculative design to an actual project. I would love to partner with students on any of these designs, and hope to work on this assignment with future classes.
As for the readings I set for the class, in retrospect, I should have assigned them more – I actually had a much longer list of possible readings, but worried that if I set too many that I would fatigue the class on libraries before we even began discussion. In future iterations, I think a better balance could be set.
NOTES